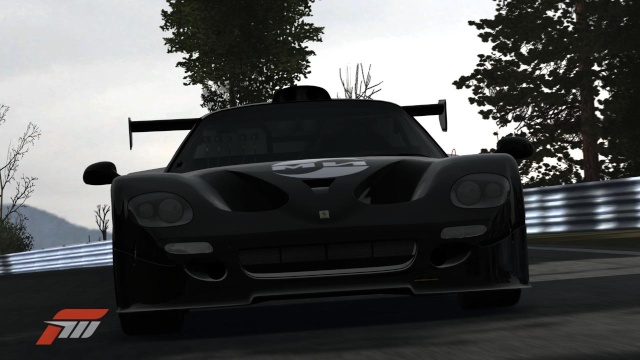 Out of any car we've reviewed, it's safe to say the F50GT is the best performing. However, it is very underrated and overlooked by the Forza community. Maybe it's the looks, or maybe because it's not called Mosler MT900, or people can't afford 500k credits, or something. I don't really know. Anyways, if there's anything wrong with the F50GT, it's the following: Speed. It's not the fastest R2 car out there. Lack of upgrades is another, you can only upgrade the rim style. Another one is (opinion!) looks. It's easily one of the worst looking Ferraris in game. But that's my opinion. What's a llama's opinion matter to you guys anyway? You only seem to love my scarf. Anyway, the F50GT doesn't have that much wrong with it. Maybe some slight understeer and the gear ratios, but that's about it.
Upgraded
So anyways, I massively upgraded the F50GT by adding lighter rims! It went up a WHOLE 2 PI points!!!! It's so fas-screw it. It barely affects the car at all. What this car is is a tuner's car. To get the best out of it, you have to tune it. It has very, very good acceleration, handling and braking. Tuning these really lets this car put up lap times. One thing I adjusted was the final drive ratio and gearing ratios to improve throttle response and acceleration, and adding about 10 miles per hour to the top speed. Ramping up the downforce and adjusting the suspension really lets this car stick to the road. After tuning and some stylin' rims, the F50GT happily goes around corners very quickly, accelerates really quickly, and is a huge blast to drive, especially on the 'Ring. It's worth the 500k credits, which really isn't that much, you cheapos. It's like 2 hours of racing, jeez. Anyways, I give this car 2 hooves up, for performance and fun driving.
Online Results
You'll all be happy to know the F50GT can take on, crush, destroy, explode, etc, the Mosler. On long straightaways, not really, but anywhere else and the Mosler won't know what hit it. Okay, that was really biased. Anyways, the F50GT can put up a very, very good fight with the Mosler. You can out handle the Mosler in corners, outbrake them, but they'll have you on the straights. Expect very high placed finishes, unless you're faced with like, level 35s in Moslers.
And now..for the surprise!
Bobbo (Darkside/Alphabet Soup/Rob/etc) and I tested his Pagani Zonda R against my F50GT, on Nurburgring P2P Layout B.
We did two heats, one was a photo session, the other was a race.
In case you were wondering, Bobbo won the race. I blame the drag from my scarf for losing.
Anyways, the Zonda R is a monster. Bobbo had me on acceleration, but I had him in the corners. It was a fun race, not for serious. We're both not the best 'Ring drivers, and saying the Zonda R is awesomesauce and the F50GT is terrible would be biased. The F50GT is almost like a 500k CR Zonda R, with a bit less power.
Photos: